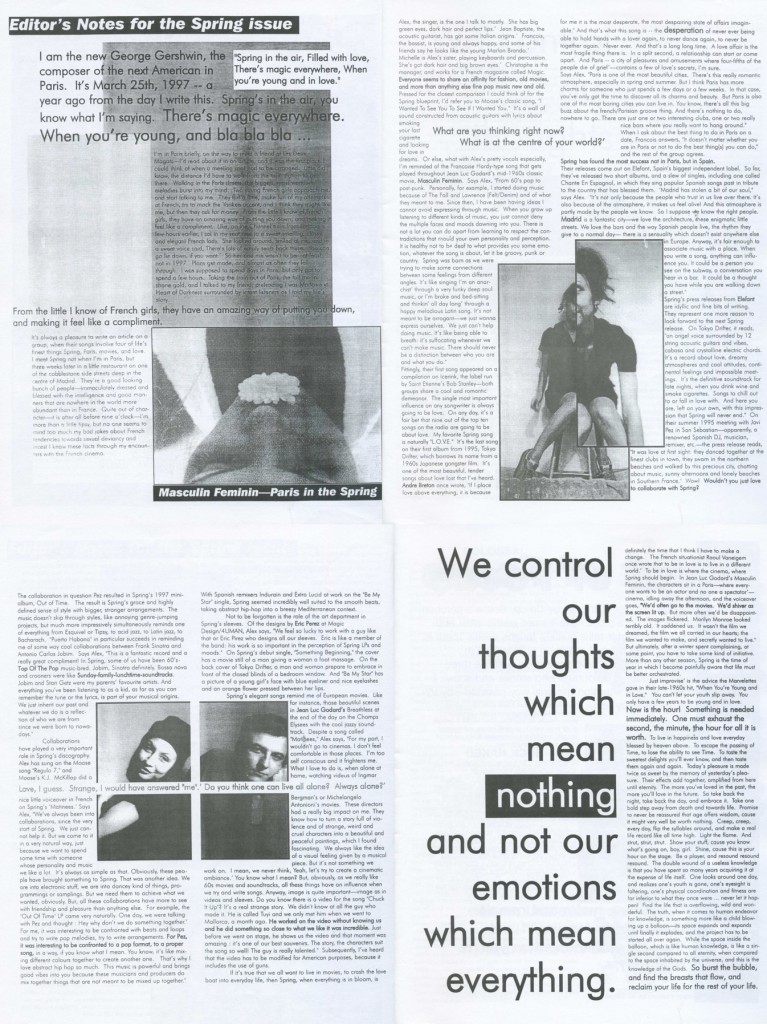 (Note: The original article was written as if the interview was done in-person; while I did indeed meet Spring at a cafe in Madrid, the questions/answers were exchanged by email. I have included the transcript here in a separate posting. As a further note, I've eliminated the rather self-indulgent introduction and conclusion to the original article I wrote.)
This is an article on a group, involving three of life's finest things — Spring, Paris, and love. I meet the Parisian group Spring not when I'm in Paris, but three weeks later in a little restaurant on one of the cobblestone sidestreets deep in the centre of Madrid. They're a good looking bunch of people — immaculately dressed and blessed with the intelligence and good manners that are nowhere in the world more abundant than in France. Quite out of character — it is after all before nine O'Clock — I'm more than a little tipsy, but no one seems to mind too much my bad jokes about French tendencies towards sexual deviancy and incest, which I've been made familar with through my encounters with the French cinema. Alex, the singer, is the one I talk to mostly. She has 'big green eyes, dark hair and perfect lips.' Jean Baptiste, the acoustic guitarist, 'has got some Italian origins.' Francois, the bassist, is 'young and always happy, and some of his friends say he looks like the young Marlon Brando.' Michelle is Alex's sister, playing keyboards and percussion. 'She's got dark hair and big brown eyes.' Christophe is the manager, and works for a French magazine called Magic. Everyone seems to share an affinity for fashion, old movies, and more than anything else fine pop music new and old.
Pressed for the closest comparison I could think of for the Spring blueprint, I'd refer you to Moose's classic song, "I Wanted To See You To See If I Wanted You." It's a wall of sound constructed from acoustic guitars with lyrics about smoking your last cigarette and looking for love in dreams. Or else, what with Alex's pretty vocals especially, I'm reminded of the Francoise Hardy-type song that gets played throughout Jean Luc Godard's mid-1960s classic movie, Masculin Feminin. Says Alex, "From 60's pop to post-punk. Personally, for example, I started doing music because of The Fall and Lawrence (Felt/Denim) and of what they meant to me. Since then, I have been having ideas I cannot avoid expressing through music. When you grow up listening to different kinds of music, you just cannot deny the multiple faces and moods dawning into you. There is not a lot you can do apart from learning to respect the contradictions that mould your own personality and perception. It is healthy not to be deaf to what provides you some emotion, whatever the song is about, let it be groovy, punk or country. Spring was born as we were trying to make some connections between some feelings from different angles. It's like singing 'I'm an anarchist' through a very funky deep soul music, or 'I'm broke and bed-sitting and thinkin' all day long' through a happy melodious latin song. It's not meant to be arrogant — we just wanna express ourselves. We just can't help doing music. It's like being able to breath: it's suffocating whenever we can't make music. There should never be a distinction between who you are and what you do."
Fittingly, their first song appeared on a compilation on Icerink, the label run by Saint Etienne's Bob Stanley — both groups share a cool and romantic demeanor. The single most important influence on any songwriter is always going to be love. On any day, it's a fair bet that nine out of the top ten songs on the radio are going to be about love. My favorite Spring song is "L.O.V.E." It's the last song on their first album from 1995, Tokyo Drifter, which borrows its name from a 1960s Japanese gangster film. It's one of the most beautiful, tender songs about love lost that I've heard. Andre Breton once wrote, "If I place love above everything, it is because for me it is the most desperate, the most despairing state of affairs imaginable." And that's what this song is — the desperation of never ever being able to hold hands with a lover again, to never dance again, to never be together again. Never ever. And that's a long long time. A love affair is the most fragile thing there is. In a split second, a relationship can start or come apart. And Paris — 'a city of pleasures and amusements where four-fifths of the people die of grief' — contains a few of love's secrets, I'm sure.
Says Alex, "Paris is one of the most beautiful cities. There's this really romantic atmosphere, especially in spring and summer. But I think Paris has more charms for someone who just spends a few days or a few weeks. In that case, you've only got the time to discover all its charms and beauty. But Paris is also one of the most boring cities you can live in. You know, there's all this big buzz about the french/parisian groove thing. And there's nothing to do, nowhere to go. There are just one or two interesting clubs, one or two really nice bars where you really want to hang around." When I ask about the best thing to do in Paris on a date, Francois answers, "It doesn't matter whether you are in Paris or not to do the best thing(s) you can do," and the rest of the group agrees.
Spring has found the most success not in Paris, but in Spain. Their releases come out on Elefant, Spain's biggest independent label. So far, they've released two short albums, and a slew of singles, including one called Chante En Espagnol, in which they sing popular Spanish songs past in tribute to the country that has blessed them. "Madrid has stolen a bit of our soul," says Alex. "It's not only because the people who trust in us live over there. It's also because of the atmosphere, it makes us feel alive! And this atmosphere is partly made by the people we know. So I suppose we know the right people. Madrid is a fantastic city — we love the architecture, these enigmatic little streets. We love the bars and the way Spanish people live, the rhythm they give to a normal day — there is a sensuality which doesn't exist anywhere else in Europe. Anyway, it's fair enough to associate music with a place. When you write a song, anything can influence you. It could be a person you see on the subway, a conversation you hear in a bar. It could be a thought you have while you are walking down a street."
Spring's press releases from Elefant are idyllic and fine bits of writing. They represent one more reason to look forward to the next Spring release. On Tokyo Drifter, it reads, "an angel voice surrounded by 12 string acoustic guitars and vibes, cabasa and crystalline electric chords. It's a record about love, dreamy atmospheres and cool attitudes, continental feelings and impossible meetings. It's the definitive soundtrack for late nights, when you drink wine and smoke cigarettes. Songs to chill out to or fall in love with. And here you are, left on your own, with this impression that Spring will never end." On their summer 1995 meeting with Javi Pez in San Sebastian — apparently, a reknowned Spanish DJ, musician, remixer, etc. — the press release reads, "It was love at first sight: they danced together at the finest clubs in town, they swam in the northern beaches and walked by this precious city, chatting about music, sunny afternoons and lonely beaches in Southern France." Wow! Wouldn't you just love to collaborate with Spring?
The collaboration in question Pez resulted in Spring's 1997 mini-album, Out of Time. The result is Spring's grace and highly defined sense of style with bigger, stranger arrangements. The music doesn't skip through styles, like annoying genre-jumping projects, but much more impressively simultaneously reminds one of everything from Esquivel or Tipsy, to acid jazz, to Latin jazz, to Bacharach. "Puerto Habana" in particular succeeds in reminding me of some way cool collaborations between Frank Sinatra and Antonio Carlos Jobim. Says Alex, "This is a fantastic record and a really great compliment! In Spring, some of us have been 60's-Top Of The Pop music-bred. Jobim, Sinatra definitely. Bossa nova and crooners were like sunday-family-lunchtime-soundtracks. Jobim and Stan Getz were my parents' favourite artists. And everything you've been listening to as a kid, as far as you can remember the tune or the lyrics, is part of your musical origins. We just inherit our past and whatever we do is a reflection of who we are from since we were born to nowadays."
Collaborations have played a very important role in Spring's discography. Alex has sung on the Moose song "Regulo 7," and Moose's K.J. McKillop did a nice little voiceover in French on Spring's "Matinees." Says Alex, "We've always been into collaborations, since the very start of Spring. We just cannot help it. But we come to it in a very natural way, just because we want to spend some time with someone whose personality and music we like a lot. It's always as simple as that. Obviously, these people have brought something to Spring. That was another idea. We are into electronic stuff, we are into dancey kind of things, programmings or samplings. But we need them to achieve what we wanted, obviously. But, all these collaborations have more to see with friendship and pleasure than anything else. For example, the "Out Of Time" LP came very naturally. One day, we were talking with Pez and thought : 'Hey why don't we do something together.' For me, it was interesting to be confronted with beats and loops and try to write pop melodies, try to write arrangements. For Pez, it was interesting to be confronted to a pop format, to a proper song, in a way, if you know what I mean. You know, it's like mixing different colours together to create another one. That's why I love abstract hip hop so much. This music is powerful and brings good vibes into you because these musicians and producers do mix together things that are not meant to be mixed up together." With Spanish remixers Indurain and Extra Lucid at work on the "Be My Star" single, Spring seemed incredibly well suited to the smooth beats, taking abstract hip-hop into a breezy Meditteranean context.
Not to be forgotten is the role of the art department in Spring's sleeves. Of the designs by Eric Perez at Magic Design/4UMAN, Alex says, "We feel so lucky to work with a guy like that or Eric Pérez who designs all our sleeves. Eric is like a member of the band: his work is so important in the perception of Spring LPs and moods." On Spring's debut single, "Something Beginning," the cover has a movie still of a man giving a woman a foot massage. On the back cover of Tokyo Drifter, a man and woman prepare to embrace in front of the closed blinds of a bedroom window. And "Be My Star" has a picture of a young, wel-made up girl with nice eyelashes and an orange flower pressed between her lips.
Spring's elegant songs remind me of European movies. Like for instance, those beautiful scenes in Jean Luc Godard's Breathless at the end of the day on the Champs Elysees with the cool jazzy soundtrack. Despite a song called "Matinees," Alex says, "For my part, I wouldn't go to cinemas. I don't feel comfortable in those places. I'm too self concious and it frightens me. What I love to do is, when alone at home, watching videos of Ingmar Bergman's or Michelangelo Antonioni's movies. These directors had a really big impact on me. They know how to turn a story full of violence and of strange, weird and cruel characters into a beautiful and peaceful paintings, which I found fascinating. We always like the idea of a visual feeling given by a musical piece. But it's not something we work on. I mean, we never think, 'Yeah, let's try to create a cinematic ambiance.' You know what I mean? But, obviously, as we really like 60s movies and soundtracks, all these things have an influence when we try and write songs. Anyway, image is quite important — image as in videos and sleeves. Do you know there is a video for the song "Chuck It Up"? It's a real strange story. We didn't know at all the guy who made it. He is called Tuyi and we only met him when we went to Mallorca, a month ago. He worked on the video without knowing us and he did something so close to what we like it was incredible. Just before we went on stage, he shows us the video and that moment was amazing : it's one of our best souvenirs. The story, the characters suit the song so well! The guy is really talented." Subsequently, I've heard that the video has to be modified for American purposes, because it includes the use of guns.
If it's true that we all want to live in movies, to crash the love boat into everyday life, then Spring, when everything is in bloom, is definitely the time that I think I have to make a change. The French situationist Raoul Vaneigem once wrote that 'to be in love is to live in a different world.' To be in love is where the cinema, where Spring should begin. In Jean Luc Godard's Masculin Feminin, the characters sit in a Paris — 'where everyone wants to be an actor and no one a spectator' — cinema, idling away the afternoon, and the voiceover goes, "We'd often go to the movies. We'd shiver as the screen lit up. But more often we'd be disappointed. The images flickered. Marilyn Monroe looked terribly old. It saddened us. It wasn't the film we dreamed, the film we all carried in our hearts; the film we wanted to make, and secretly wanted to live." But ultimately, after a winter spent complaining, at some point, you have to take some kind of initiative. More than any other season, Spring is the time of year in which I become painfully aware that life can be better orchestrated.